NSR Accepted as Women's Flat Track Derby Association Apprentice
The Women's Flat Track Derby Association (WFTDA) is proud to announce today that the Northside Rollers (NSR) have been accepted as an "Apprentice" affiliate of the WFTDA, the governing body for women's amateur flat track roller derby.
>> Find out More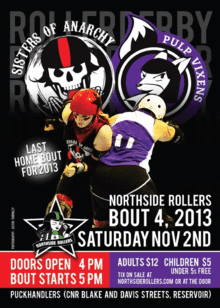 Upcoming Bouts
It's been an exciting year for the Northside Rollers' two home teams, the Pulp Vixens and the Sisters of Anarchy, with a new team redraft and several skaters making their debuts. There's just one more home bout left this year, so don't miss it!
Saturday 2 November
Puckhandlers (corner Blake and Davis Streets, Reservoir)
Doors open at 4:00pm for 5:00pm bout start
Adults $10 online ($12 at the door)
Kids $5 (under 5 yrs free)
To avoid missing out, buy your tickets online by clicking here.